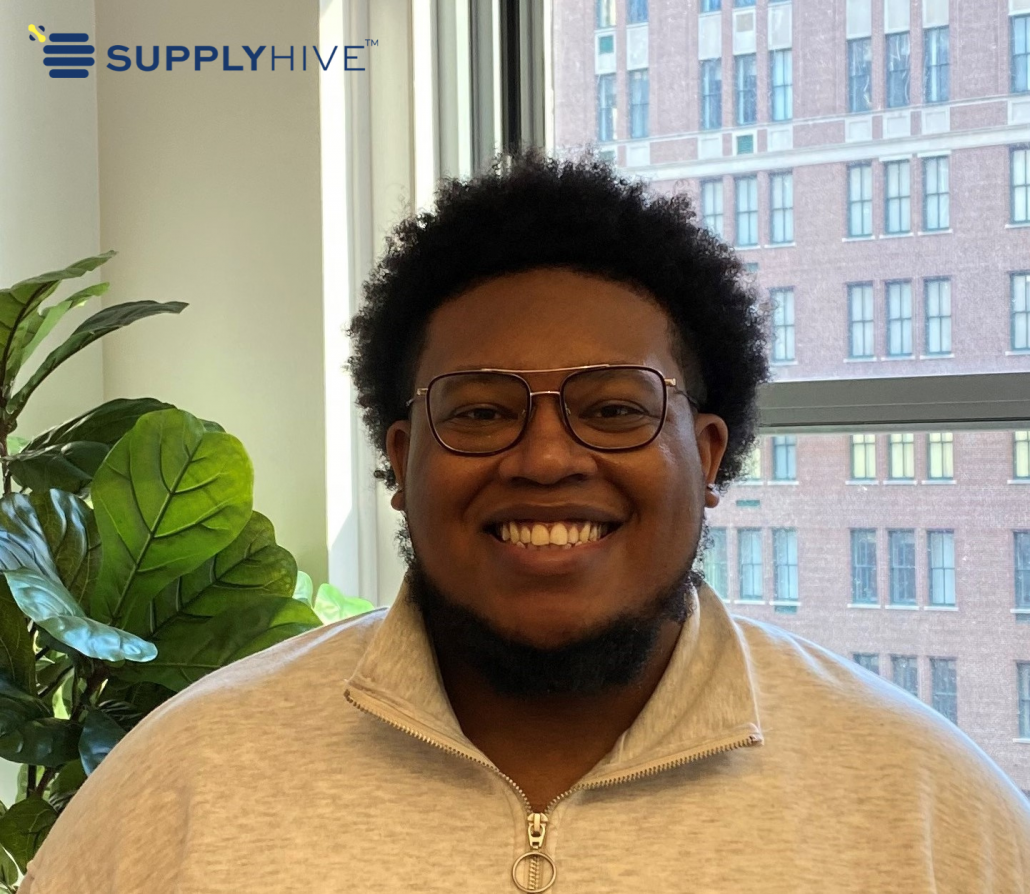 To Honor Black History Month- We will highlight several African America professionals across the Start-up/Software Community as part of our Representation Matters Series. Our first highlight is non other than our very own Mr. Christion Barnes. Christion grew up on the South Side of Chicago where he attended Morgan Park High School. With various hobbies that stoked his creative nature such as photography, he never imagined that a career in Software engineering was a possibility. It was during his studies at Iowa State University that he was inspired by his roommate to pursue a degree in computer software engineering. As a field with low representation in black and brown communities, Christion serves as a trailblazer in the software engineering field. On the SupplyHive team he works on a major account as the point developer alongside a team comprised of our customer service and sales professionals. Knowing that he is one of the 'few' for now, Christion took some time to reflect on the significance of his role against the backdrop of Black History Month.
---
Black History Month in America. Is it a time for celebration, or maybe a time for mourning? For me, I like to think it is a time for reflection. A reflection on how far we, as Black people, and how we as a nation, have come. Reflecting on the present state of our society, and lastly, reflecting on what our future could be. When we reflect on this turbulent time (that was not that long ago I might add) we as a people have the opportunity to not only see the mistakes of the past, but LEARN from them. However, learning from them is also not enough. Growing up, my step-father instilled in me that you haven't really learned something unless you have the ability to apply the knowledge that you have learned. 
 
In today's ever-changing society and many technological advancements, what better time to apply the lessons that we have learned from our troubled past? As the tech industry and digital era are continuously evolving, we can make sure that everyone has a piece of the pie. Blacks (and other minority groups) need and deserve access to good education, life-changing opportunities, even luxury, if we are ever going to move forward as a truly unified nation.  
A large part of the reason why as, a young black man from the South side of Chicago, I decided to entrench myself in the tech industry. I did this despite the fact that while growing up I was never afforded that opportunity or relevant education before college (unlike many of my old college classmates). I want to show other young black men and women that this is our generation's gold rush (maybe bitcoin rush), and now is our time to stake our place in the future of America.
###
https://wp.supplyhive.com/wp-content/uploads/2020/09/SH_icon_wht-260x300.png
0
0
Victoria Zetterberg
https://wp.supplyhive.com/wp-content/uploads/2020/09/SH_icon_wht-260x300.png
Victoria Zetterberg
2022-02-01 12:16:51
2022-07-11 09:57:22
A Reflection on Black History Month- By Christion Barnes